FD 120 Fire Rated Doorset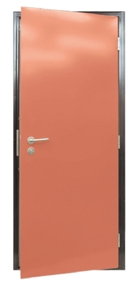 All fire resistant doors are custom made to measure and are designed to contain and prevent the spread of fire for a specified period of time.
FD 120 Fire Rated
> Provide protection for up to 2 hours (120 Minutes) with a latched design
> Maximum width of 1250 mm as a single and 2600 mm as a double
> Maximum height of 2800 mm as a single
> Thickness: 48 mm
> Infill panels to the side or top can be provided as optional extras
> 1.2mm corrosion resistant Zintec/Aluzinc sheets as standard
> Self-supporting resin impregnated honeycomb core as standard with the option of mineral wool
> Vision panels available for doors across circulation routes
> Panic escape hardware available
We would recommend that you discuss your requirements with us to evaluate the appropriate level of fire protection needed.

Book A Survey
Fill out the form below and we will contact you to arrange a free site survey or send you the garage door brochures of your choice.
Related products